This singularly recognizable arch overlooks a sheer cliff extraordinary views of the canyons with rock spires and La Sal Mountains along the horizon. The short hike is just half a mile (0.8 km) from the small paved parking lot below and is great for even young kids, but be careful near the edge because there is not a single railing in sight near the magnificent cliffs!
The best time to view the arch is during sunrise, but the beauty and popularity extends all day. If you do plan to catch the sunrise arrive plenty early, even though you'll be driving and hiking in near pitch dark you may arrive to a sea of photographers who beat you there as it is not uncommon for folks to camp out all night for this sunrise that has to be seen to be believed! If you go for more than one sunrise you might start to get to know others with the exact same idea, after all, sunrise at Mesa may be the new Greatest Show on Earth.
Highlights: Arch, Canyonland Views

Less than 1 hour

Non-Plumbed Bathrooms

Easy hike, about half a mile (1 km) for the full loop.
Mesa Arch Sunrise
Even arriving before dark I found the Arch crowded with photographers, but shortly after the sun rose most of them left, leaving the arch to myself.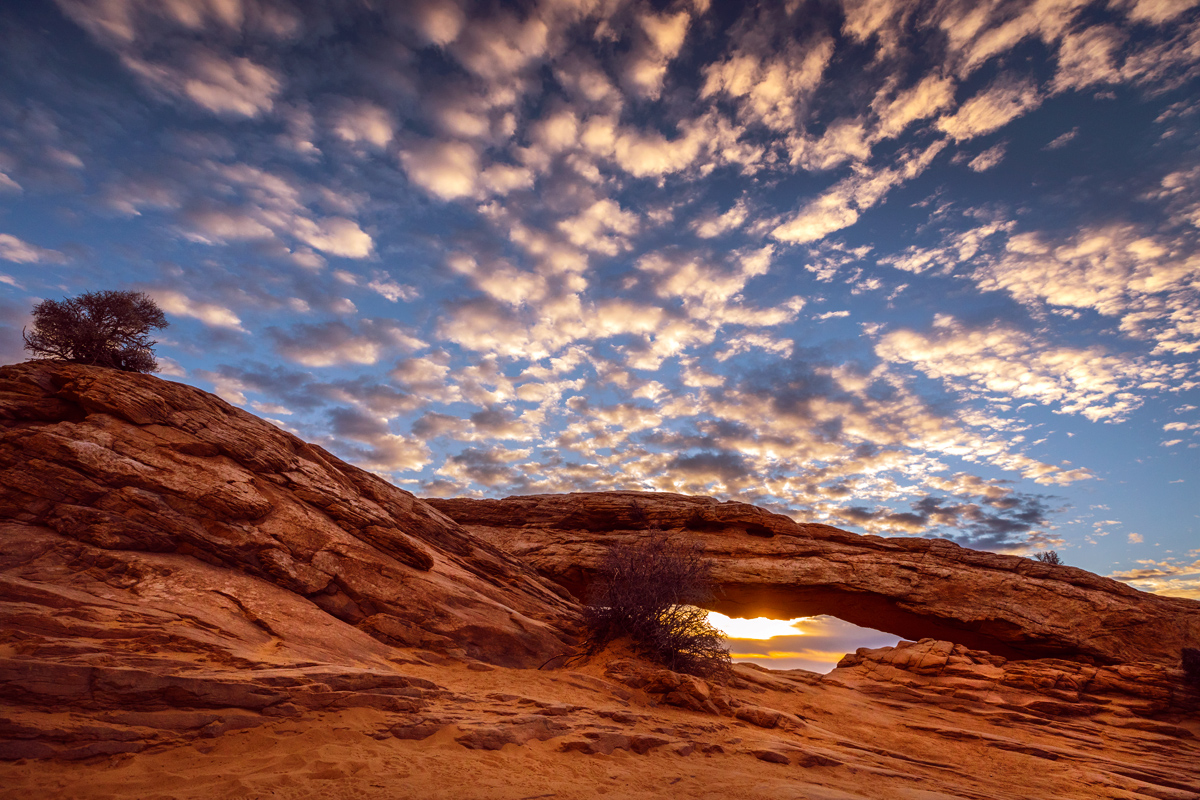 Canon EOS 5D Mark IV
EF 16-35mm f/2.8L III USM
1/1000 sec at f / 6.3 ISO 800
16mm focal length
November 19, 2021 at 8:29 AM
38°23'2772000″ N
109°51'8281000″ W
6,145.7 ft Altitude
Mesa Arch
Up close to the arch looking north gives you the best view of the rock spires of stone, don't be surprised if you are standing elbow to elbow with other photographers vying for the same shot, this is a great time to use a wide angle lens so you don't need to back up to get the whole arch in view… the reality of this scene is there is literally someone one inch outside of the frame!
Canon EOS 5D Mark IV
EF 16-35mm f/2.8L III USM
1/160 sec at f / 10 ISO 125
16mm focal length
August 13, 2021 at 9:40 AM
38°23'17.124″ N
109°51'47.634″ W
6,145.7 ft Altitude
Canyon Sunrise
While crowds converged upon the arch just to the right is a rock hill with this ancient looking tree overlooking the Canyonlands in a way an arch is almost distracting from! Don't forget to take a look around and explore spots off the beaten path, and since this is bare rock it's safe to climb on. Keen eyes may notice another photographer did set-up a time-lapse with their phone on a tiny tri-pod for the grandest show on earth!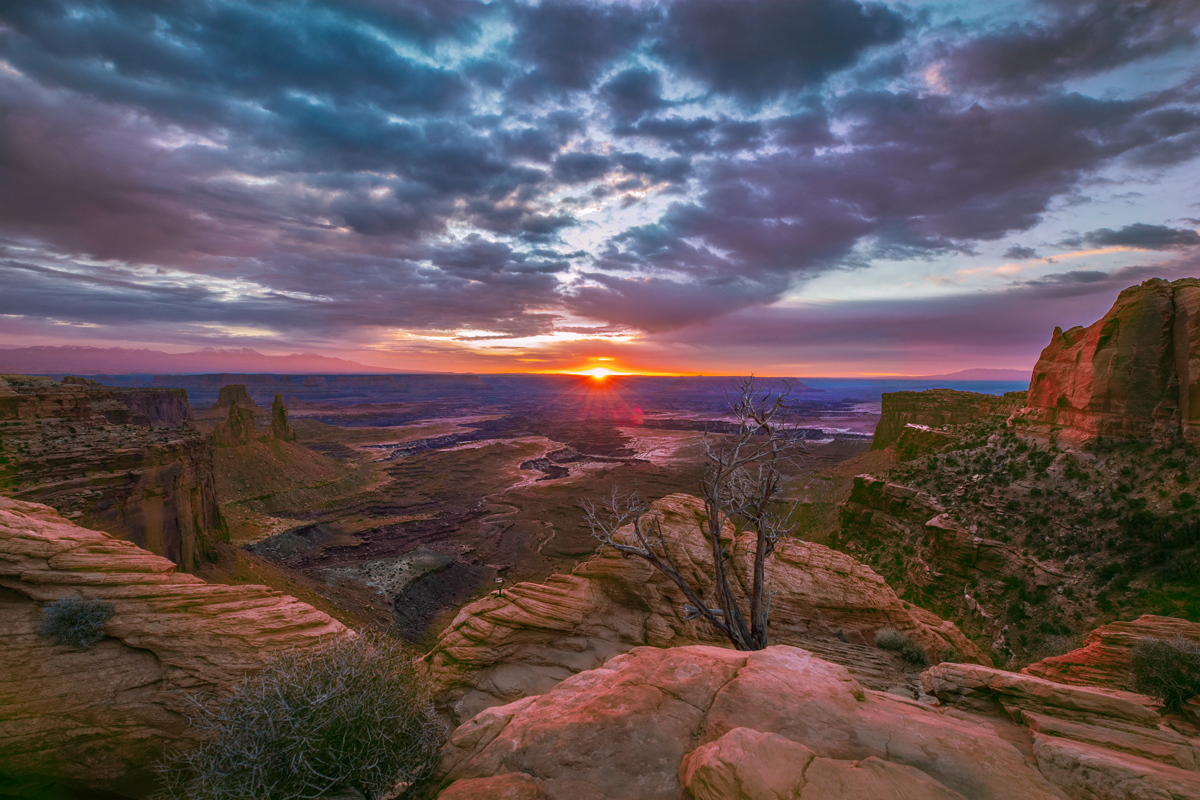 Canon EOS 5D Mark IV
EF 16-35mm f/2.8L III USM
1/80 sec at f / 6.3 ISO 500
16mm focal length
November 19, 2021 at 8:08 AM
38°23'16.572″ N
109°51'48.912″ W
6,150.9 ft Altitude
Mesa Arch Sunrise
Waiting about twenty minutes after sunrise the crowds dispersed but the sky was still absolutely spectacular, stepping back allows you to capture the incredible sky-scape which gives this arch almost a completely different feel. The lone person in the arch was a complete stranger, I thought they added a great sense of scale.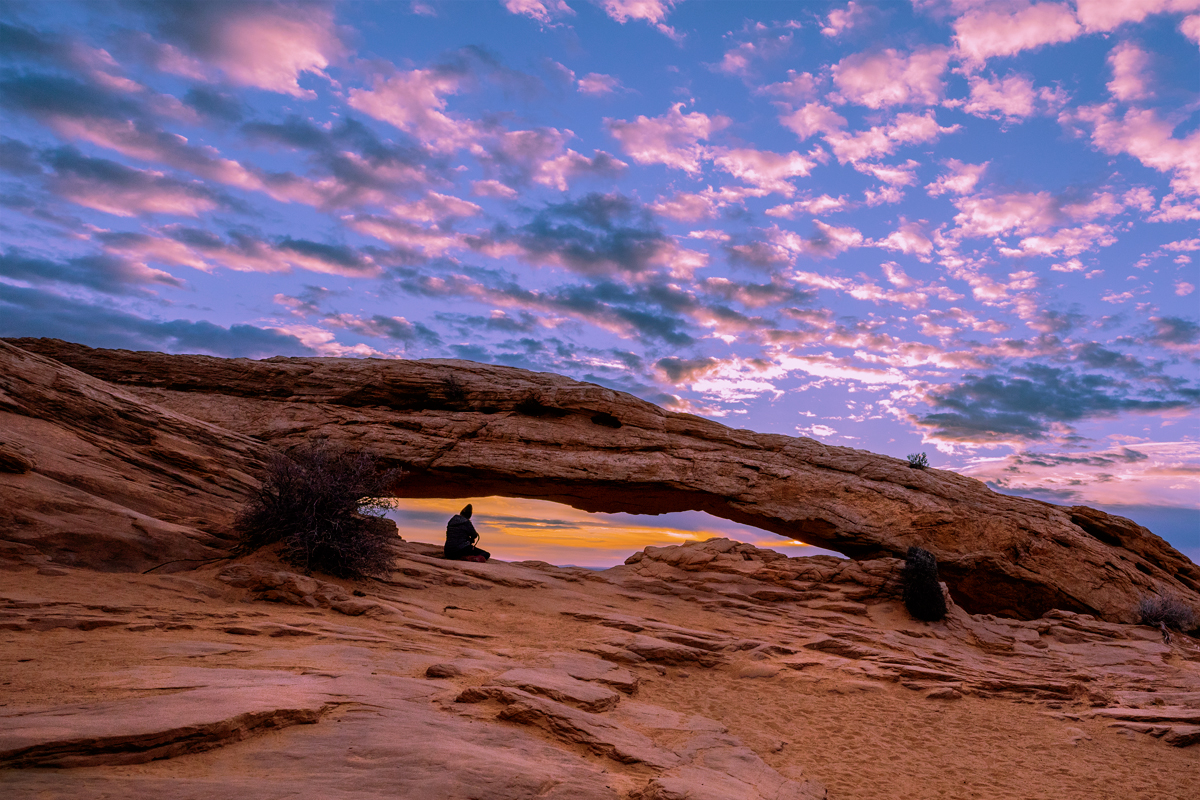 Canon EOS 5D Mark IV
EF 16-35mm f/2.8L III USM
1/1000 sec at f / 6.3 ISO 800
16mm focal length
November 19, 2021 at 8:25 AM
38°23'17.004″ N 109°51'48.678″ W
6,060.4 ft Altitude
Lone Tree North of Mesa Arch
There are more photography subjects than just the amazing arch! Up the bare rock, just north of the arch I found this lone tree overlooking the canyon like a sentinel. When climbing be sure to step only on the bare, exposed rock so to preserve the native soil. The smoke-filled sky was from natural forest fires in neighboring states that lended a mystic quality to the atmosphere that was unique but hid the details of the sometimes majestic sky.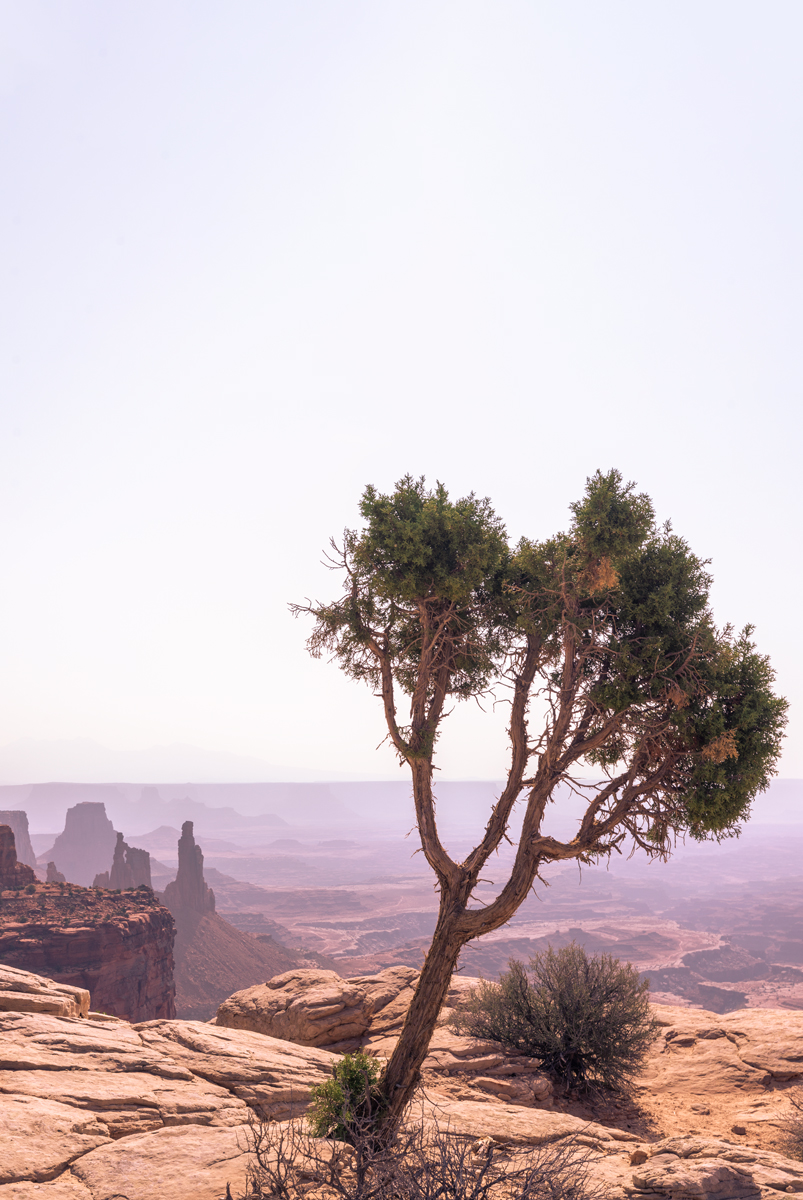 Canon EOS 5D Mark IV
EF 16-35mm f/2.8L III USM
1/80 sec at f / 10 ISO 125
35mm focal length
November 19, 2021 at 8:25 AM
38°23'20.718″ N 109°51'44.478″ W
6,029.2 ft Altitude