Four named arches including North Window Arch, South Window Arch, Turret Arch and Double Arch can be found on one short trail, Don't miss the Garden of Eden at the beginning, and if you have time the Primitive Trail and Double Arch Trailheads have even more to discover.
This loop has many trail options and the highest concentration of major arches immediately visible from the parking lot, making this is a very popular spot for night photography & families of all ages. The short trails can be easily hiked in the dark and the massive rock openings are fantastic portals into the vibrant night sky!
Highlights: Many Arches and Pillar Formations

Short easy hike

Non Plumbed Bathrooms

Great for Night Photography
MAP LEGEND: Dark Red is part of the featured adventure. Light Gray are additional nearby highlights.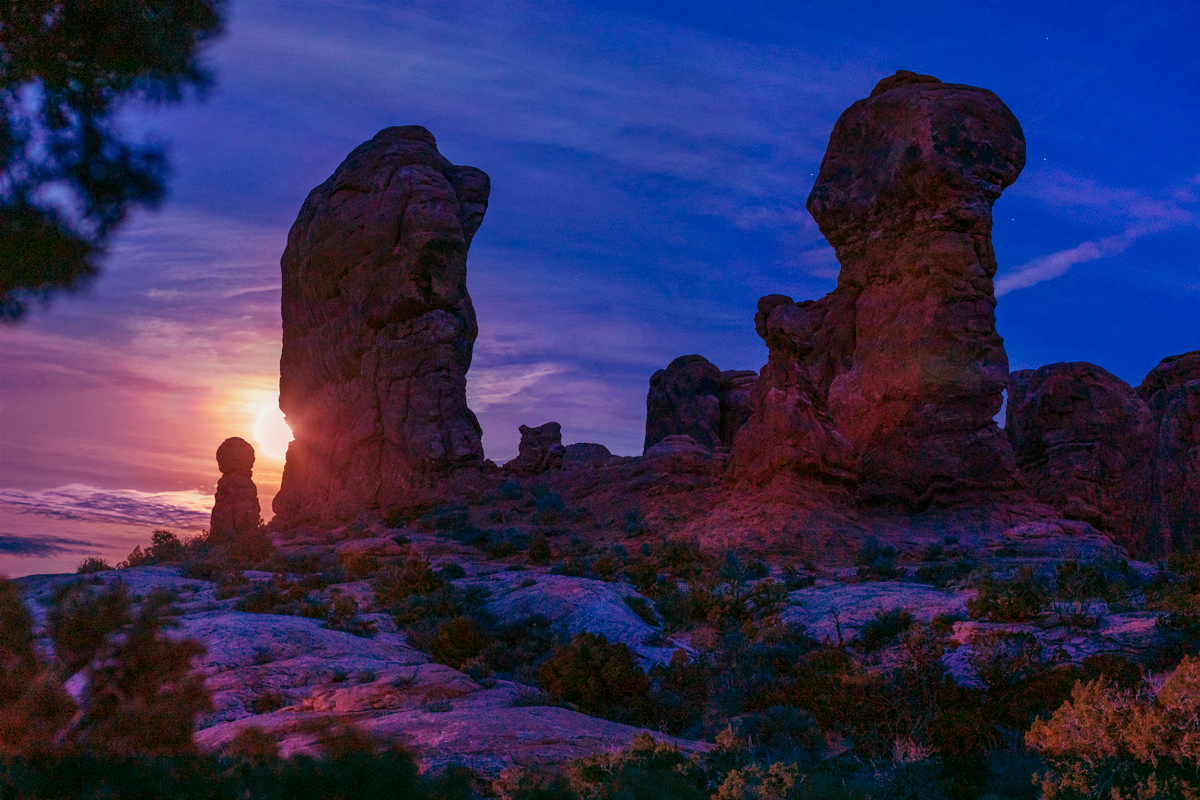 Canon EOS 5D Mark IV
EF 16-35mm f/2.8L III USM
.4 sec at f / 3.5 ISO 640
50mm focal length
November 18, 2021 at 6:44 PM
38°41'53.112″ N
109°32'59.634″ W
5,130.2 ft Altitude
Full Moon In Windows Arch
The trail leads to bare rock which is permissible to walk on. Using artificial lights on the arches is discouraged so I traveled with no lighting equipment, however, my son did have his own head-lamp and was exploring this arch when I captured him underneath. Shortly after another group of folks showed up with a powerful flashlight and I caught a separate shot of their light on the arch. This shot is a combination of those two shots, making it look like my son and his small head-lamp could be lighting the side of the arch.  Which would of course be unlikely! A really sturdy and stable tripod was necessary for the multi-second exposure, the full moon behind the clouds made the night scene extra dark.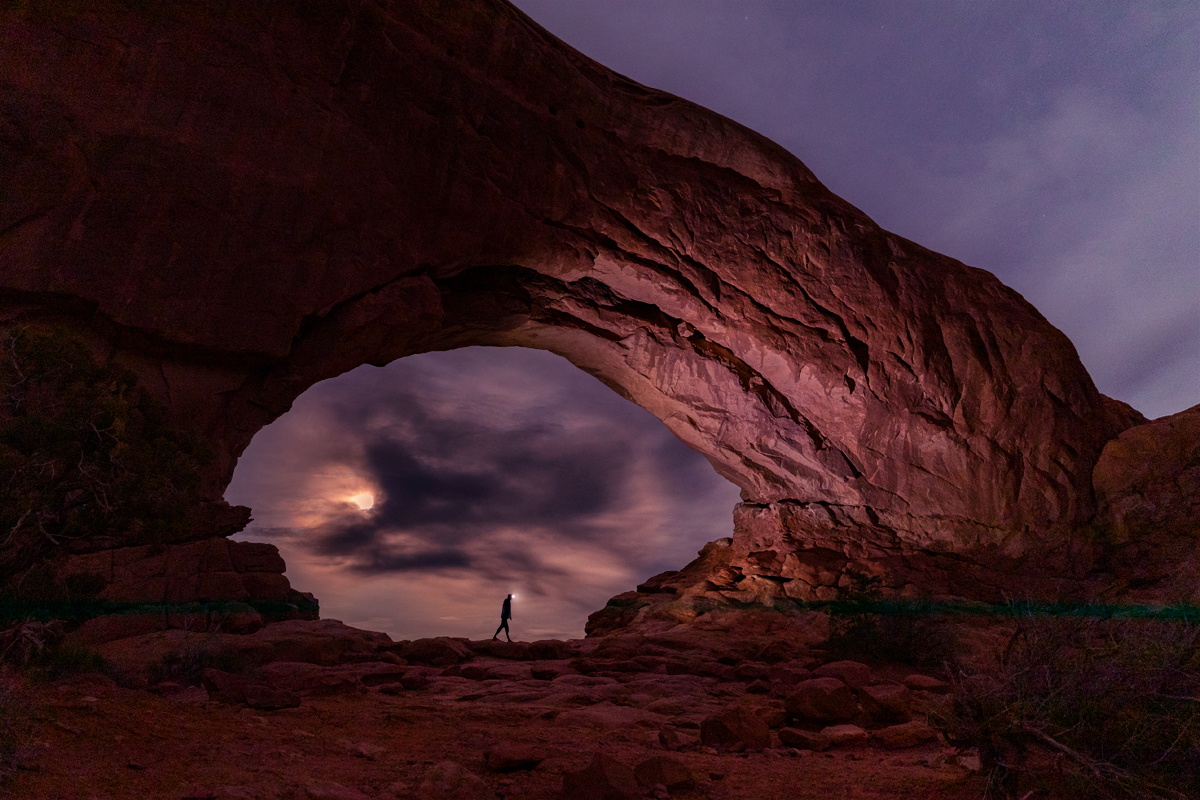 Canon EOS 5D Mark IV
EF 16-35mm f/2.8L III USM
2.5 sec at f / 2.8 ISO 1000
16mm focal length
November 18, 2021 at 7:27 PM
38°41'8.112″ N 109°31'59.034″ W
5,260.8 ft Altitude
Turret Arch at Night
Just below the North Windows you have a spectacular distant view of the Turret Arch, on the trail I found a spot where the sandstone was perfectly framed by two trees, one barrent of leaves the other full. Lighted only with the full moon shrouded in clouds focusing was difficult in the near pitch dark as auto-focus couldn't find anything I had to use manual focus and I couldn't really see much at all either.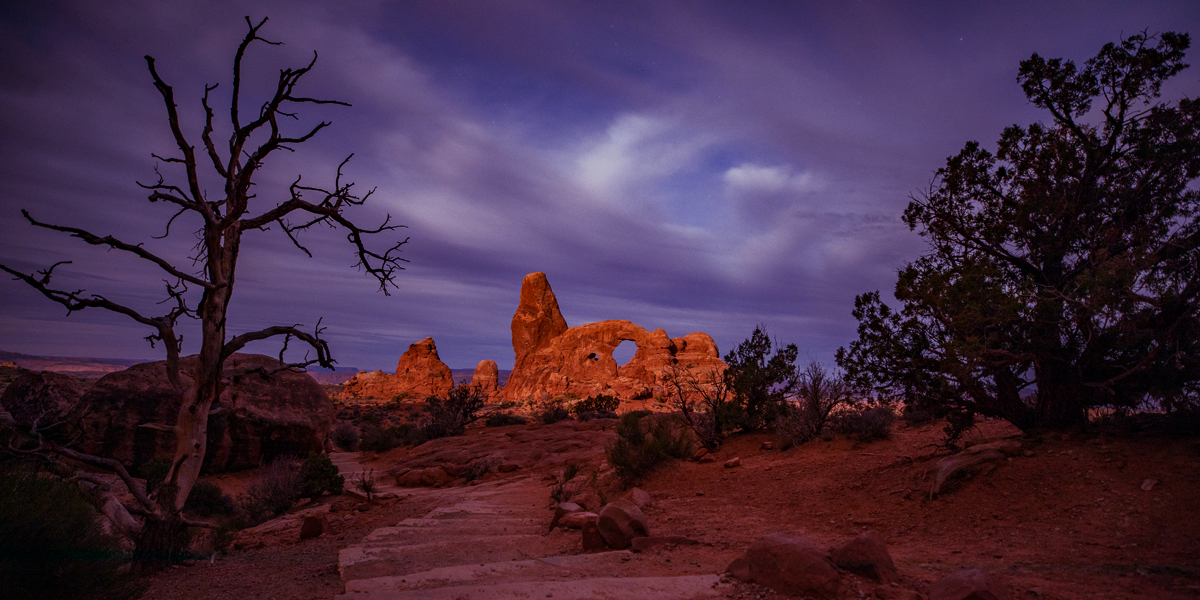 Canon EOS 5D Mark IV
EF 16-35mm f/2.8L III USM
10 sec at f / 2.8 ISO 1000
16mm focal length
November 18, 2021 at 7:13 PM
38°41'7.1542″ N 109°32'2.4739″ W
Window Arch & Tree at Night
My son had a red LED setting, the dimmer light is meant to better maintain your night vision. I noticed when he glanced at this tree the light looked spectacular so I set up the tripod and kept a long shutter speed to capture the dim red light.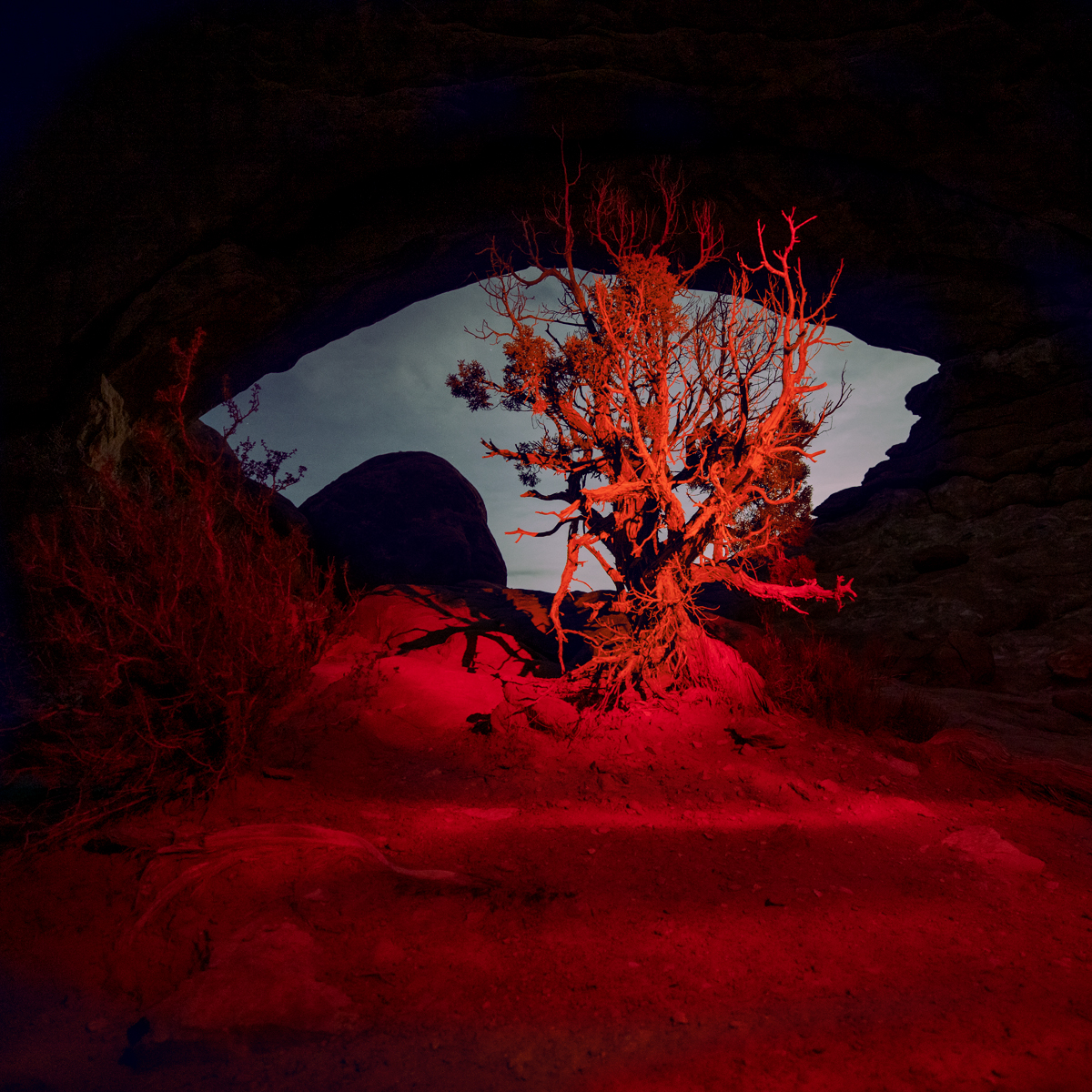 Canon EOS 5D Mark IV
EF 16-35mm f/2.8L III USM
2.5 sec at f / 2.8 ISO 1000
16mm focal length
November 18, 2021 at 7:13 PM
38°41'7.1542″ N 109°32'2.4739″ W